A 34-year-old Missouri man was recently saved by surgeons at Northwestern Medicine in Chicago who used breast implants to successfully perform a double-lung transplant.
Davey Bauer, 34, whose nickname is now "Double D Davey," started smoking cigarettes when he was 21 years old, and typically smoked a pack of cigarettes a day.
Bauer, who enjoys staying active by snowboarding, skateboarding and golfing, said that he switched to vaping in 2014, hoping for a "healthier alternative."
"Vaping felt better, and I thought it was the healthier alternative, but in all honesty, I found it more addicting than cigarettes," Bauer said.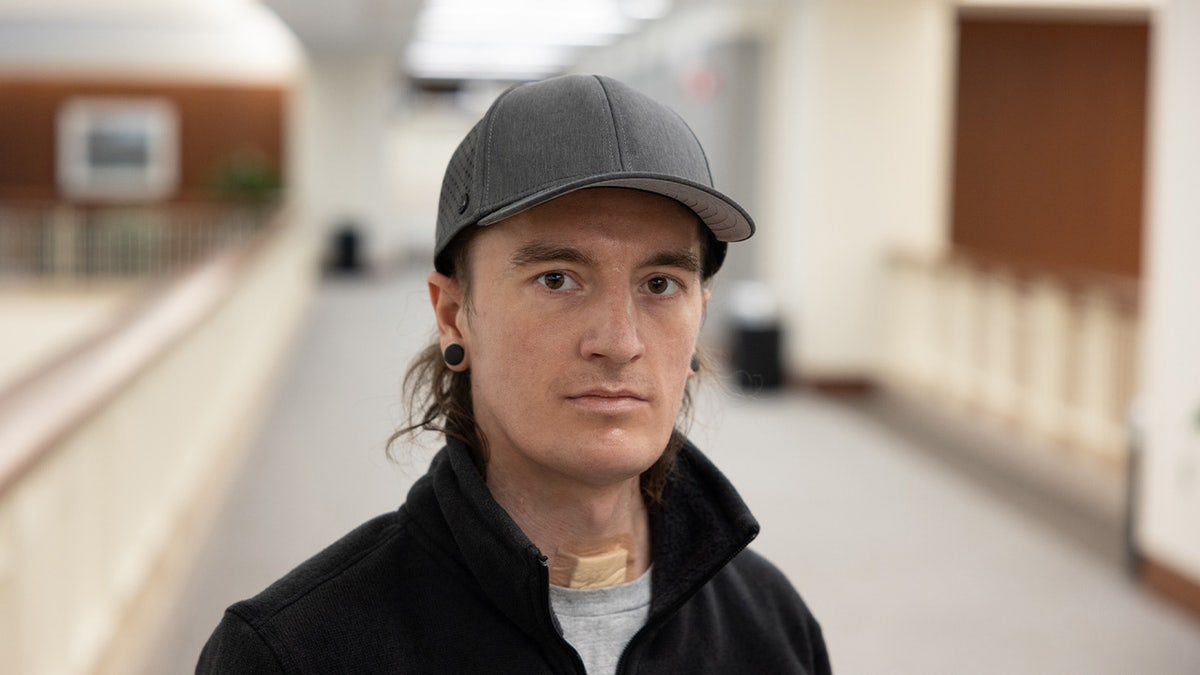 Davey Bauer in November 2023 following the surgery. (Northwestern Medicine)
Despite switching to vaping, Bauer become extremely ill in May and was rushed to the emergency room.
"I felt a little short of breath, was coughing up a lot of secretions. But other than that, I mean, I felt pretty normal until the weekend, and that was just like I didn't have any energy," Bauer said in a video released by Northwestern Medicine. "Basically, Suzanne brought me into the E.R. and I don't remember much after that."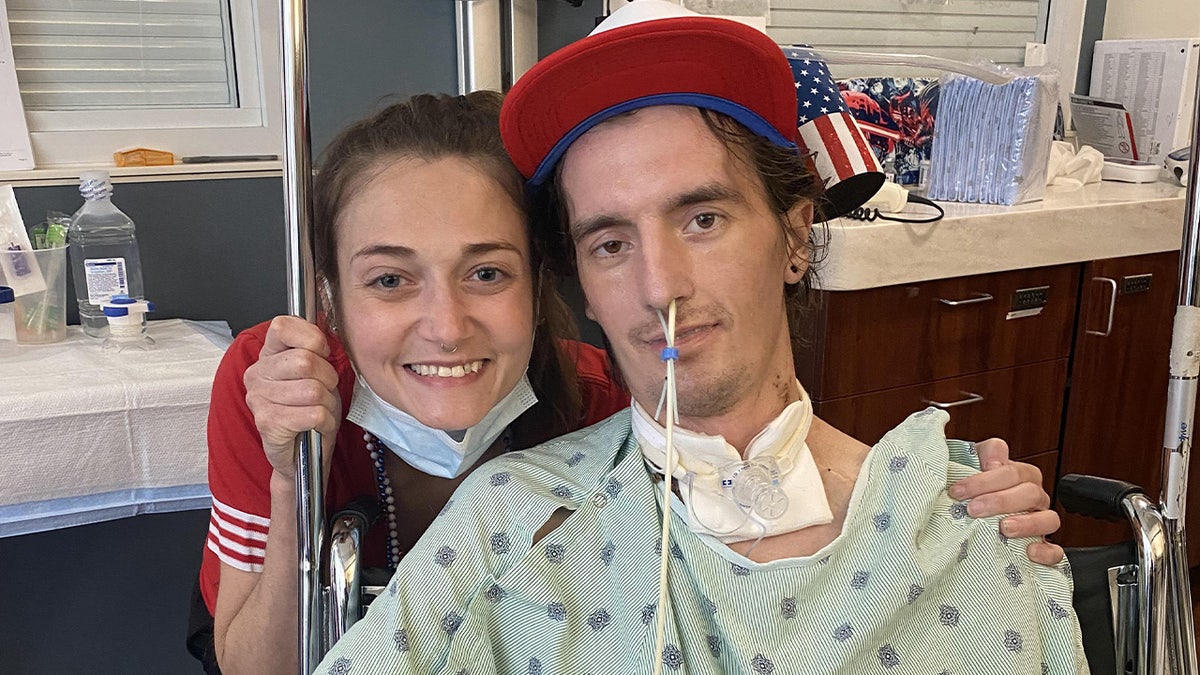 Davey Bauer and his girlfriend, Susan Gore, during his recovery at Northwestern Medicine in July 2023. (Northwestern Medicine)
Dr. Rade Tomic, pulmonologist and medical director of the Northwestern Medicine Canning Thoracic Institute Lung Transplant Program, said that Bauer's lungs were so infected that they "started to liquefy."
"Davey's lungs were so heavily infected that they started to liquefy. If you looked at his X-ray, there was nothing left — the lungs were completely filled with puss," Dr. Tomic said.
ASK A DOC: 'HOW CAN I PREVENT HIGH CHOLESTEROL?'
Dr. Ankit Bharat, chief of thoracic surgery at Northwestern, said that surgeon's knew that Bauer needed a double lung transplant.
"It was very clear to me that he needed a double lung transplant, but it was also very clear that he would not survive that transplant," Dr. Bharat said. "And the only way forward there was to somehow get rid of those lungs, because once the lungs get so disease and damaged, you cannot clear them."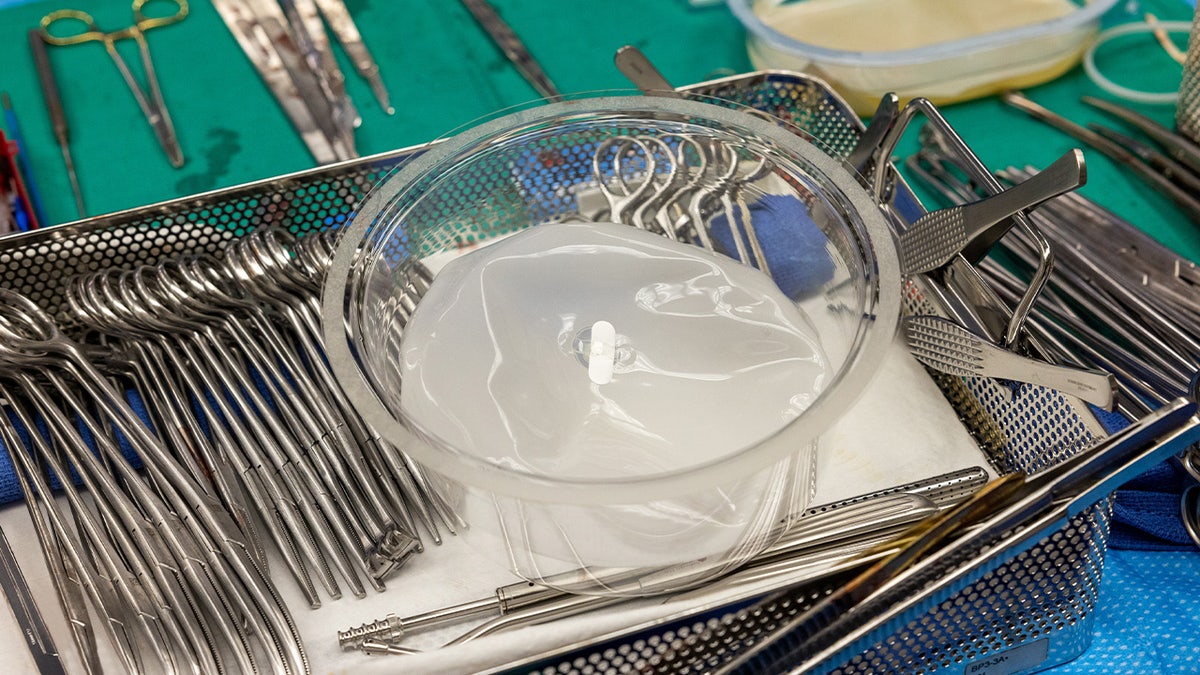 The breast implant used in Davey Bauer's surgery. (Northwestern Medicine)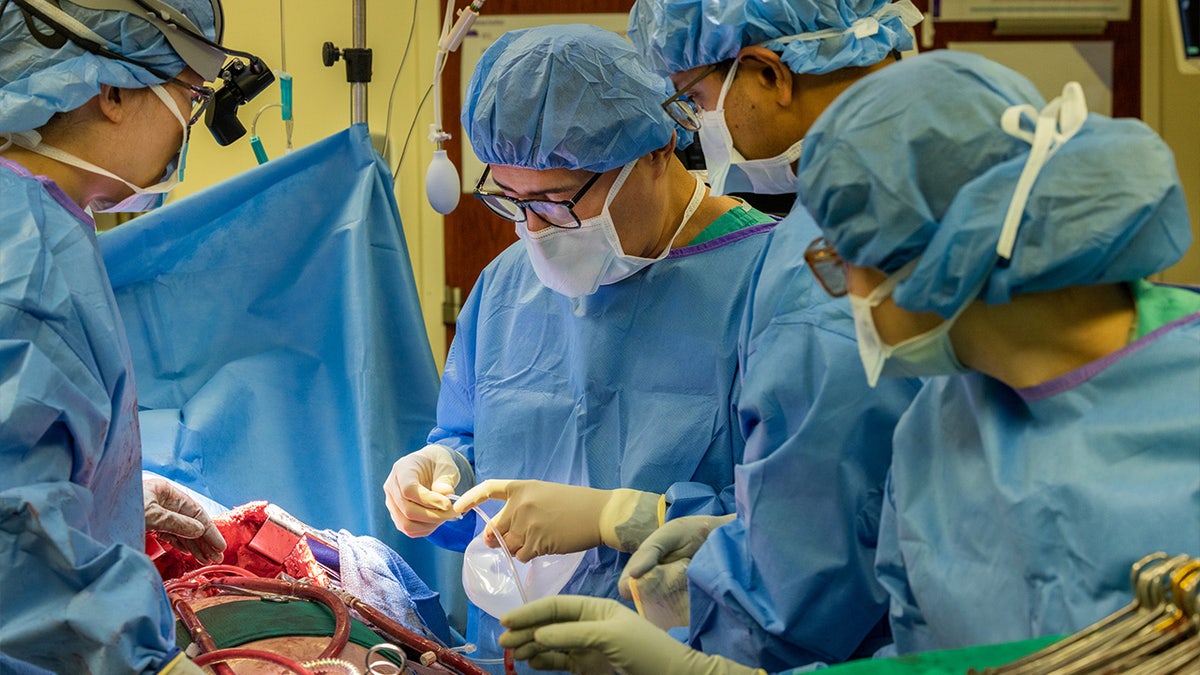 Doctors used breast implants to keep Davey Bauer's heart in the center of his chest. (Northwestern Medicine)
In May, Northwestern Medicine Canning Thoracic Institute surgeons removed Bauer's infected lungs, created an artificial lung to keep him alive, placed DD breast implants inside his chest cavity to keep the heart in place.
Once the infected lungs were removed May 26, Bauer's body immediately started clearing the infection.
YOUR DIABETES RISK MAY DOUBLE IF YOU EAT THIS FOOD TWICE A WEEK, SAY HARVARD RESEARCHERS
Surgeons also listed Bauer for a double-lung transplant and surgeons found a match within 24 hours.
"Still to this day, I can't believe Davey lived without any lungs. He was breathing, blood pumping without lungs," Bauer's girlfriend, Susan Gore, said. "While we waited inside his hospital room at Northwestern, I would take a breath in and say, 'one breath for me and one for Davey.' It's hard to wrap my mind around it, and I'm still in awe that Davey was able to do this — it truly shows his strength."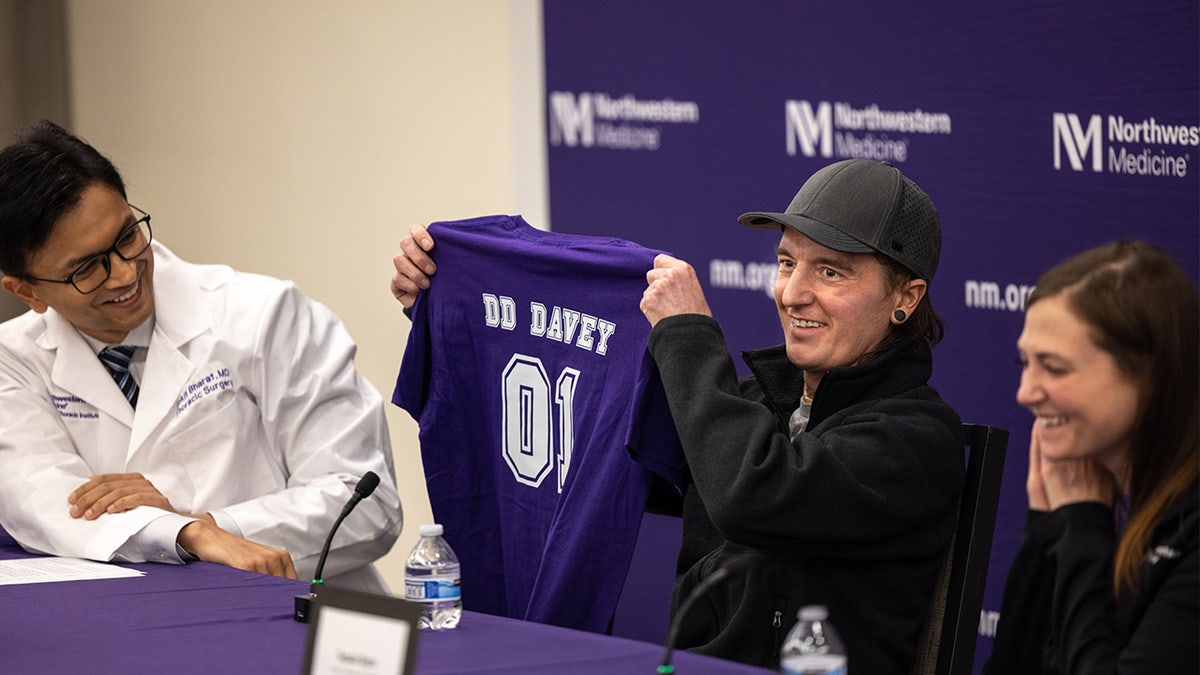 Davey Bauer holding up a shirt with his new nickname, DD Davey. (Northwestern Medicine)
Dr. Bharat said that he believes that this new technology will "open a lot of doors" for patients who have "no other options."
CLICK HERE TO SIGN UP FOR OUR HEALTH NEWSLETTER
"Davey's case is remarkable because it shows that we can keep patients alive after removing their lungs through new technology, which can be transformative for many critically ill patients," Dr. Bharat said in a press release. "With this new approach that we've developed, many patients who get to the point of needing a lung transplant — but their damaged lungs are making them too sick to get one — can now potentially get transplanted. I think it's going to open a lot of doors for many patients who have no other options."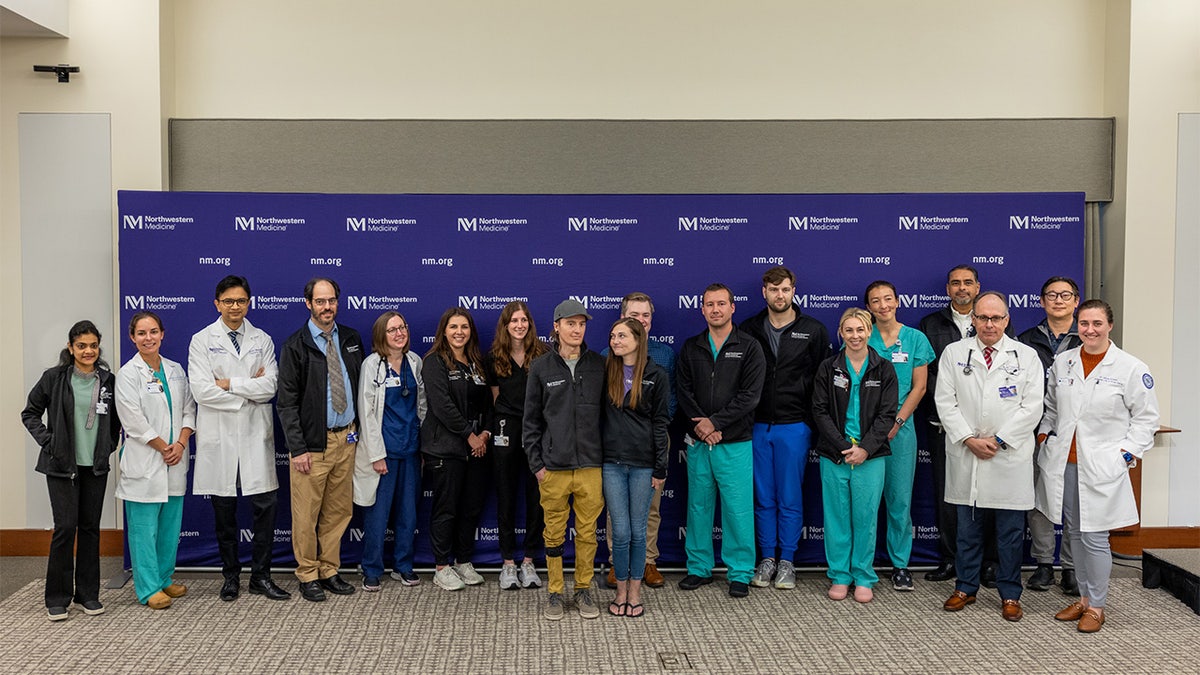 Members of Davey's lung transplant team. (Northwestern Medicine)
Bauer said that he is grateful to be alive and said that if he could go back in time, he would have never started smoking or vaping.
CLICK HERE TO GET THE FOX NEWS APP
"I'm so grateful to be alive and know I wouldn't be here today without the support of my girlfriend, family, friends and my Northwestern Medicine transplant team who never gave up on me," Bauer said. "While we don't have definitive ways of proving my years of vaping caused my medical condition, doctors do know for a fact that vaping causes lung injury.
"If I could go back in time, I never would have picked up a cigarette or vape pen, and I hope my story can help encourage others to quit, because I wouldn't wish this difficult journey on anyone."
Sarah Rumpf-Whitten is a breaking news writer for Fox News Digital and Fox Business.
She is a native of Massachusetts and is based in Orlando, Florida.
Story tips and ideas can be sent to sarah.rumpf@fox.com and on X: @s_rumpfwhitten.